When you moved into your home, you may have thought that you would live there for the rest of your life, or at least for many, many years. However, things can change, and you might be ready to sell your house and move into something smaller, bigger, or simply different. Whatever the case may be, at Nau Real Estate Services in Greenwood Village, we can help you list your house on the market, connect you with the perfect buyers, and help you find a new place to call home!
In this post, we'll look at some things you can do to before listing your home to make it more attractive to those who come to view the property.
Minor Upgrades
You may have made some upgrades to your house over the years, and when you're ready to sell, you might think that it's time to finish those big projects like putting in new kitchen cabinets or updating the master bathroom. While some of these upgrades can be good, you don't want to overdo it, mainly because you may not get the best return on investment when you do sell your home. Minor upgrades like painting the walls or replacing cabinet hardware can make your home look great, without putting a huge dent in your bank account. If there are broken or outdated light fixtures, replace them with modern options to give your home more appeal.
De-Personalize Each Space
Before your realtor schedules the first showing or open house, make sure you take the time to de-personalize each space. Potential buyers want to be able to see themselves living in the house, not how you live in it. Clean out half the stuff in the closets, take personal keepsakes off the shelves, and remove photos from the walls. Not only will this de-personalize the house, it will also give you a headstart on packing for your move! If you have pets, make sure anything like food dishes and litter boxes are cleaned and put away, and that your furry friends are somewhere else when the potential buyers arrive.
A Thorough Cleaning
Speaking of furry friends, if you have a dog or cat, make sure you thoroughly clean up any animal hair before showing the house. You don't want someone who has allergies to have a reaction the moment they walk through the door, and you want your home to appear clean and well-maintained. Take down the drapes to clean them, wash the windows, and make sure your lampshades aren't dirty or dingy. You can also put higher-wattage bulbs in your lamps to provide more illumination, and you can also swap out the bulbs in other fixtures for brighter options. You want people to be able to see your home so that they can see themselves living in it!
Improving Curb Appeal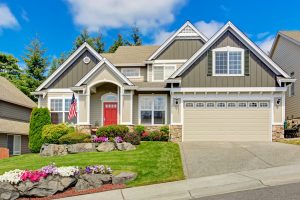 Everyone always talks about curb appeal, and while it may seem overstated, it's always a good idea to improve the outside of your home before you put it on the market. Replacing your old bushes and shrubs can make a big difference, and if you're selling in the spring or summer, make sure the lawn is trimmed and manicured. If your home could use some more exterior lighting, take the time to update the porch and pathway lights so that if people drive by at night, they can get a good look at the property. When people arrive to view your home, their first impression will be made when they step out of the car, and the first impression is often the only one that matters!
If you've been thinking about selling your home, let Nau Real Estate Services help you every step of the way. We understand the market and can help you prepare your house and list it at the right price.
---
We look forward to hearing from you!